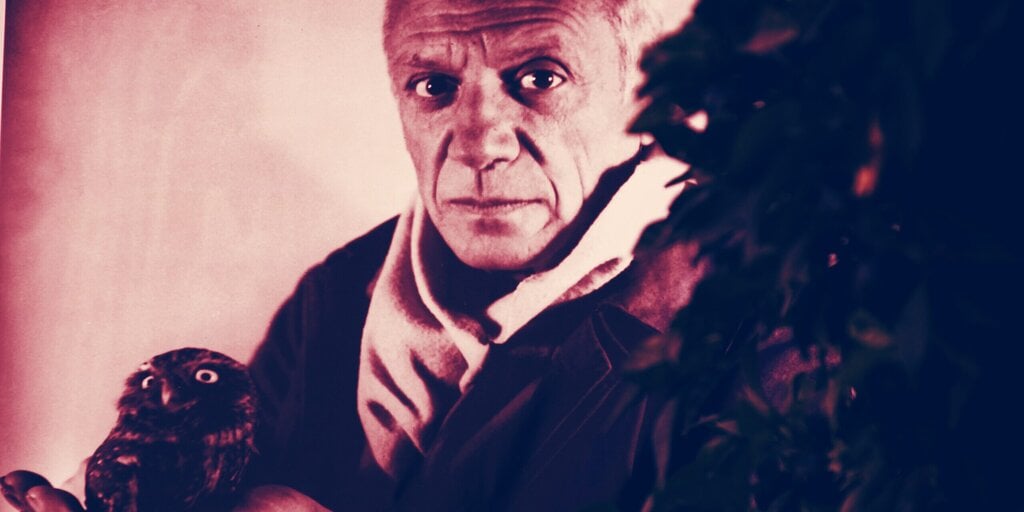 A Pablo Picasso artwork, Danse du ventre devant homme impassible, has been sold for cryptocurrency—the first time an entire, original work by the world famous artist has been sold in this way.
The artwork, translated as Belly dance before impassive man, was bought from a private seller by a Florida-based company called Idoneus, which made the announcement on Tuesday. It states its aim as expanding the value of the luxury asset market.
"According to the research we have done, this is indeed the first time full ownership of an original artwork by Pablo Picasso has been transferred formally with payment in cryptocurrency," Idoneus CEO Jarrett Preston told Decrypt.
Preston declined to say how much the firm had paid for the 1970 etching, which is printed on wove paper with the artist's stamped signature. In 2002, its estimated value was $3,460. An art expert told Decrypt that prices are likely to have increased significantly since then.
Tokenizing private islands, luxury services and aircraft
The cryptocurrency used to make the payment was Idoneus's native IDON token. According to Preston, IDON has also been used to pay for other high-value assets, even prior to its first listing on the P2PB2B crypto exchange on June 1, 2020.
"IDON has already been used as [a] method of payment for multiple seven figure valued properties, diamonds, fine jewellery, gold and silver," he said.
The company's stated goal is to transition the entire luxury goods industry to the blockchain, so that transactions of all kinds can be made more swiftly, transparently and securely. On its site, it offers anything from private islands and luxury services to aircraft.
"Idoneus is building an entirely new digital economy for all things luxury and this transaction is extremely impactful as it further demonstrates that owners of significant assets prefer to own IDON, [as] opposed to their current holding," said Preston.
Democratizing art
A mammoth challenge in the artwork world is verifying the authenticity and prominence of works, where the artist is no longer alive. A 2014 report by The Fine Arts Expert Institute estimated that as much as 50% of artworks were either forged or misattributed to an artist.
As a public, decentralized list of records, blockchain has been touted as a potential solution. That is, as long as a secure connection can be made between the artwork and the record on the ledger. It also offers the tantalizing prospect of owning a fraction of a great artwork, thus democratizing the investment potential of the fine art market.
Last year, blockchain-based art investment platform, Maecenas, auctioned a 31.5% share of the Andy Warhol painting, 14 Small Electric Chairs, for $1.7 million.
It subsequently announced a more ambitious scheme, Project Phoenix,  to auction an unnamed Picasso, and fully decentralize the process.
The idea is to create a unique ERC-721 token representing the Picasso on the Ethereum blockchain, together with a limited set of ERC-20 tokens. The latter would represent the fractional ownership shares sold during the auction, and provide their owner with a say on matters such as whether the painting should be sold or made available for public viewing.