Bitcoin (BTC) continues to outperform major U.S. banking stocks so far in 2020 despite seeing a massive sell-off in mid-March.
Ryan Selkis, founder of crypto analytics data provider Messari, tweeting on Monday highlighted the contrasting fortunes for Bitcoin and major U.S. banks. While stocks for the likes of Citi, JPMorgan, Bank of America, and Wells Fargo remain firmly in the red, Bitcoin is up about 37% year-to-date.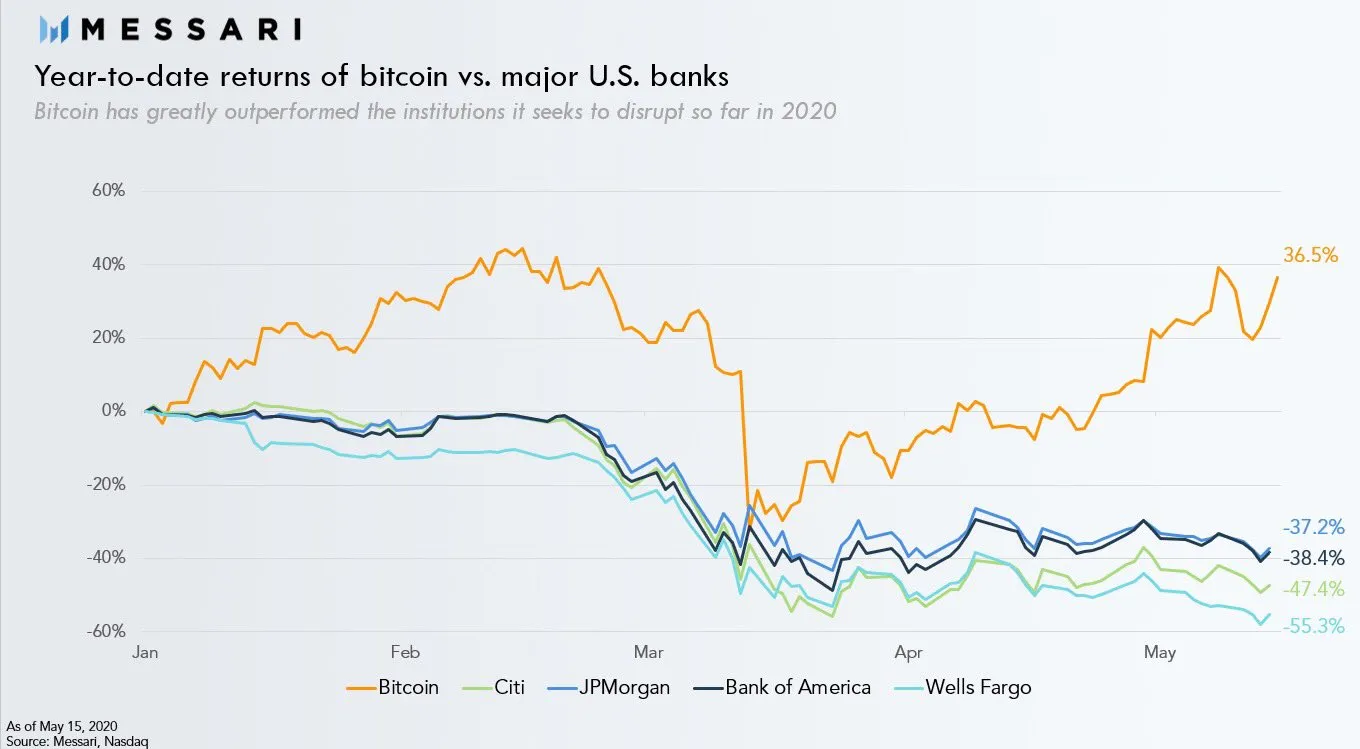 Indeed, Bitcoin has outstripped JPMorgan (negative 37.2%, the best performing of the lot) by about 300%. While both assets fell sharply in mid-March (Black Thursday), the Bitcoin price continues to recover. For banking stocks, however, the price performance has been downhill since the start of the year.
U.S. banks like many of their counterparts in mainstream finance have historically been anti-crypto. Back in 2019, Wells Fargo sparked outrage on Twitter for refusing to allow customers to buy cryptocurrency.
Wells Fargo is the worst performing of the four banks shown by Messari. Berkshire Hathaway, owned by billionaire and staunch Bitcoin critic Warren Buffett, has been curbing its stake in the bank. Indeed, a regulatory filing issued by the company on Friday showed a massive unloading of Berkshire's stake in major U.S. banks. [Washington Post]
Apart from outperforming banking stocks, Bitcoin also continues to show a clear decoupling from the U.S. stock market. This divergence in the BTC price performance serves to reinforce the safe-haven asset narrative for the largest crypto by market capitalization.