320 Interactions, 4 today
A tumultuous week in the cryptocurrency industry has reduced Bitcoin's market dominance to its lowest level in three years.
Bitcoin's market domination, with a market capitalisation of just under a trillion dollars, has plunged this week to lows not seen since mid-2018.
Bitcoin currently controls just 40.2 percent of the economy, a significant shift from a long stretch of almost uninterrupted market domination of well over 50 percent since summer 2019, with yearly highs of 69.7 percent on January 4.
The percentage share of overall market cap of a cryptocurrency is referred to as market dominance. The total market capitalisation of the cryptocurrency market is $2.25 trillion, measured by multiplying all tokens in existence by their prices.
Bitcoin's dominance fell along with its price this week after Tesla CEO Elon Musk trashed the coin on Twitter, citing concerns with the environmental impact of proof-of-work mining. Following the tweet, Bitcoin's market cap fell from $1.2 trillion to $916 billion.
Bitcoin's price is currently $49,000. However, it briefly plummeted to $46,624 today at 1:04 UTC.
Altcoins gain
Bitcoin's demise benefits altcoins. With a market value of $430.7 billion, Ethereum (ETH), the biggest altcoin, currently accounts for 19.3 percent of the market.
BNB is a distant second, with a market value of $91 billion, accounting for 4% of the market. Cardano (ADA) comes in second with 3.3 percent, led by Dogecoin (2.9%).
On May 8, Dogecoin, Elon Musk's favourite coin, almost exceeded the market cap of BNB. DOGE's market cap momentarily reached $95.3 billion, which was just 1.6 percent less than BNB's market cap at the time.
BNB's domination was challenged a few days later when news broke of an IRS probe into the coin's parent corporation, cryptocurrency exchange Binance, for money laundering and tax evasion. Within an hour, the market capitalisation of BNB fell by $150 billion. It has healed to a great extent.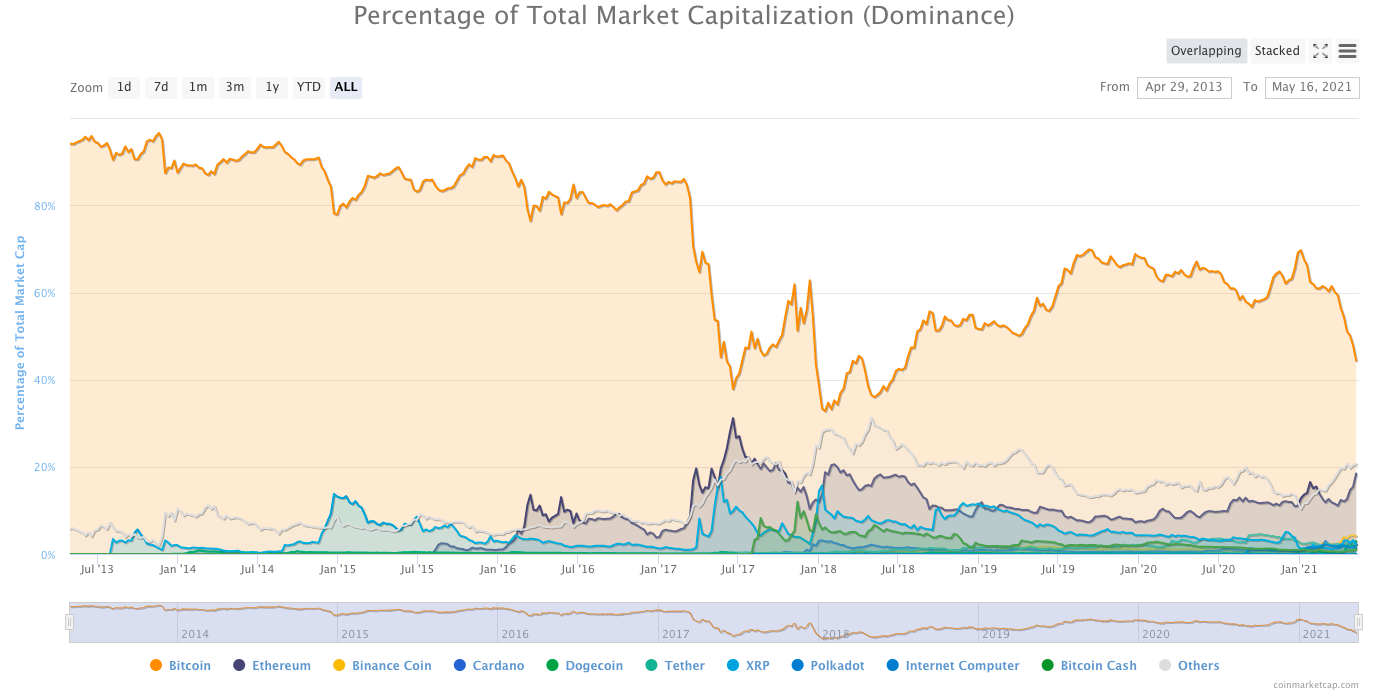 Halcyon days
Over the first few years of its life, Bitcoin's domination stood over 80%. Things started out that way before domination fell below 40% in the summer of 2017.
The runner-ups back then were Ethereum, as it is now, and Monero (XMR), a so-called anonymity coin that has since fallen to the twenty-sixth largest cryptocurrency, with a market value of $7 billion.
Bitcoin might be the first cryptocurrency, however its rivals are rapidly catching up.