330 Interactions, 6 today
On Friday, Ethereum developers reached an agreement on how to postpone a "difficulty bomb" that, if left unattended, would begin to bog down the Ethereum network this summer.
The complexity bomb is an old piece of code that makes Ethereum mining slower—and less profitable—over time by increasing the latency between the output of each block exponentially.
The bomb was planted in 2015 to encourage developers to use Ethereum 2.0.
Ethereum 2.0 shifts the network's validation method from proof-of-work (PoW) to proof-of-stake (PoS), which honours those who pledge coins to the network.
Right now, it takes an average of thirteen seconds to mine a block on Ethereum. Without stopping the bomb, validating a block will take more than twenty seconds by the end of the year.
On Friday, Ethereum developers settled on the number of blocks needed to postpone the bomb until December.
James Hancock, an Ethereum core creator, suggested the delay estimate. "The bomb is always present, and we defuse it by resetting the blocktime just for the bomb," he explained. Hancock's plan pushes the bomb out by 9,700,000 blocks.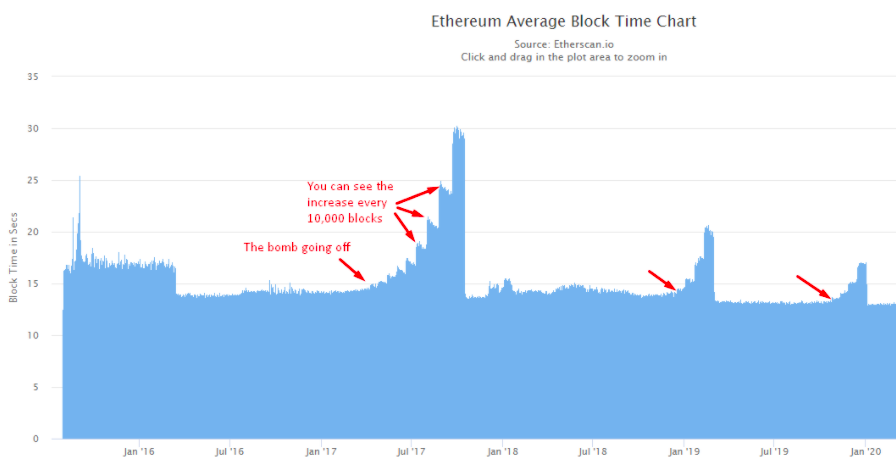 According to Tim Beiko, an Ethereum core developer, developers rejected a plan to postpone the bomb until next spring. That will not be appropriate, he said.
Ethereum developers anticipate that the network will be updated by December to enable Ethereum 1.0, the PoW-based network, to connect with Ethereum 2.0, the latest PoS-based network. This is referred to as the Merge.
"If the Merge is ready by December, we won't need to do anything about the bomb because we will move away from mining entirely," Beiko said.
Should plans for the Merge remain unimplemented, Ethereum's Shanghai fork, expected to go live in October, will delay the difficulty bomb once again. The bomb has been delayed three times so far: first in October 2017, then in February 2019 and finally in January 2020.