Grayscale says new investors are looking for Ethereum.
Ethereum has outperformed US markets and Bitcoin this year.
New institutional money is seeing ETH as a solid investment.
The last few months have seen incredible performance by major crypto assets, chief among them Bitcoin. But while Bitcoin tries to break through all-time-highs, the crypto #2 Ethereum is gaining mainstream hype.
Little Brother grows up
Bitcoin's little brother Ethereum is starting to attract more attention. In an interview with Bloomberg, Michael Sonnenshein, Managing Director of Grayscale Investments, discussed growing interest in the cryptocurrency. Grayscale's crypto trusts allow institutional and accredited investors to purchase crypto through more traditional channels.
The investment company has been adding to its reserves hand over fist. On Dec 1, 2020, they announced they had purchased 7300 Bitcoin, worth nearly $140 million. Then on Dec 4, they added another $140 million of Bitcoin in 24 hours. They now own about $10 billion worth of BTC.
For the first time, institutional investors in crypto are going beyond Bitcoin. More than just an uptick in interest, Sonnenshein said that during 2020 he saw more interest in "Ethereum only."
In August, Grayscale launched a television ad campaign aimed at increasing crypto adoption.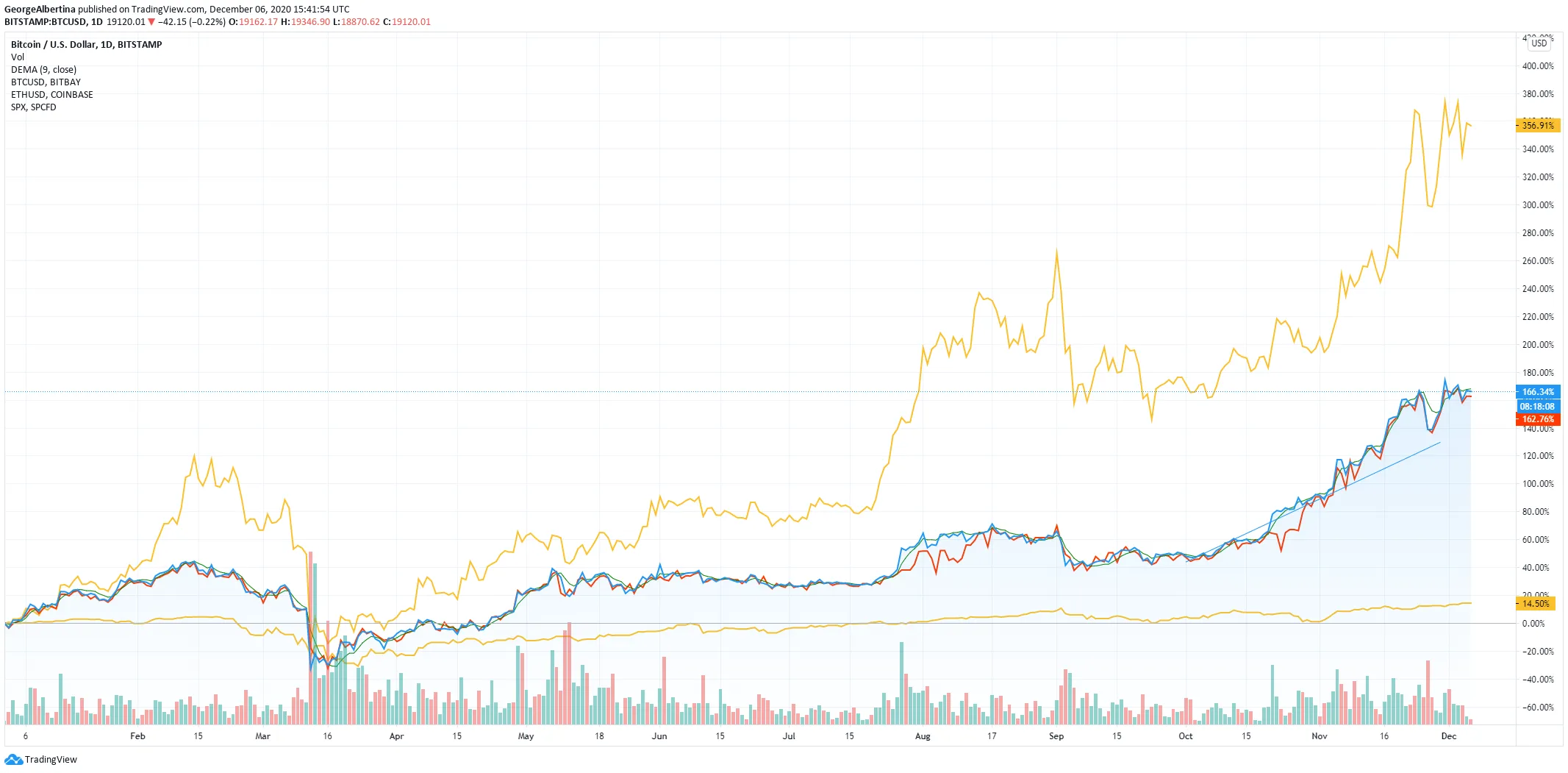 Ethereum is dominant
But it was not just Ethereum that had these new investors coming. The explosion in the popularity of Decentralized Finance (DeFi) and the launch of the scalable Ethereum 2.0 have brought more attention. Since DeFi runs primarily on the Ethereum network, fees skyrocketed, as did the asset's price.
In fact, Bloomberg strategist Mike McGlone said that Ether was maintaining "platform leadership status." So despite forays into DeFi by Tron (TRX) or Binance Coin (BNB), Ethereum is the network of choice.
What's more, Ether's price has increased 360% in past months, more than twice Bitcoin's 170%. Though DeFi saw a lot of scams and bubble money-grabs, it still is a technology with one of the most realistic use cases. The importance of digital finance with COVID and social distancing is not going unnoticed.
The Man in the gray scalable suit
Grayscale Investments offers a few financial products in cryptocurrency. They include the Ethereum Trust, The Litecoin Trust, the Bitcoin Trust and the diversified products.
A Grayscale report says that 17% of the new money into their Ethereum trust in Q3 2020 came from new institutional investors. This suggests that big investors new to the crypto space are looking for Ethereum, not Bitcoin.
Though Ethereum's current price of around $600 is far from its all time high of near $1400, gains are not guaranteed. The crypto market is nothing if volatile. Investors old and new may weather massive price swings.
Still, this is all good news for crypto, according to Sennenshein. He said,