560 Interactions, 8 today
After a week of strong gains, Filecoin (FIL) is shaping up to be one of the month's top-earning cryptocurrencies. Journalist Colin Wu has seen an increase in interest in bitcoin and its file-sharing platform:
"Filecoin surpassed $100, benefiting a large number of Chinese miners and investors. Reasons: the first investor token will be released over, Coinbase launched new storage tokens, the dual mining test of Filecoin and LPT started, the cooperation between Filecoin and LINK, etc. (…) A lot of Chinese funds are entering this industry."
Grayscale announcement and Chainlink's partnership
Grayscale revealed its Filecoin-based trust, with an annualised charge of 2.5 percent and $1.3 million in assets under control. The firm's product would have 16,000 outstanding shares worth 0.99 FIL each.
Another announcement about Filecoin that has boosted its price has been consolidated with Chainlink. The collaboration will enable Filecoin to be integrated with Chainlink's oracle service, resulting in a "bidirectional connection":
"As a result, smart contract developers will have a full Web 3.0 infrastructure stack including blockchains for on-chain logic and state changes, Chainlink oracles for off-chain communication and computation, and Filecoin for decentralized storage and data solutions."
Decentralized storage network @Filecoin will integrate #Chainlink oracles to create an end-to-end Web 3.0 development stack, enabling bidirectional communication between Filecoin and smart contracts for novel use cases like #NFT insurance and DataDAOs. https://t.co/vppVr5J1FR

— Chainlink – Official Channel (@chainlink) March 24, 2021
Grayscale posted $40.3 billion in assets under control in its most recent survey. The Grayscale Bitcoin Trust (GBTC) remains the largest offering, accounting for $34 billion of the total, led by the Grayscale Ethereum Trust (GETH), which accounts for $5 billion.
As previously said, Filecoin has made huge gains in the last week, rising 27 percent to an all-time high of $115. FIL has gained 177.1 percent and 229 percent on the weekly and monthly indexes, respectively.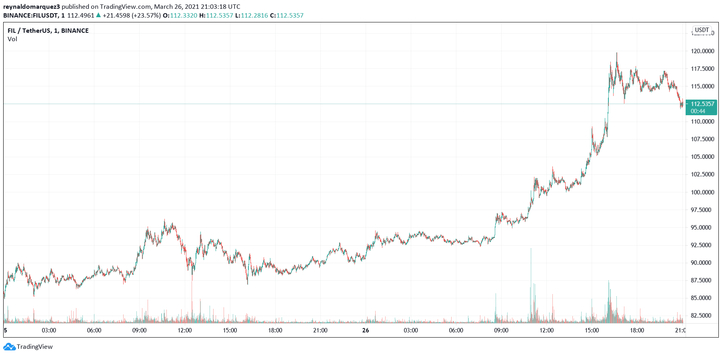 The collaborations that have formed on Filecoin's website have given it the traction it needs to defy the downward trend impacting Bitcoin's price. Investors' trust in China, as well as increased purchasing pressure from Grayscale's product, may continue to boost FIL's price to new highs.