448 Interactions, 2 today
Coinbase stock closed at $327 on their Nasdaq launch, giving the crypto exchange a completely diluted market value of $86 billion.
The cumulative number of common stock remaining and eligible for trading on the free market after all potential sources of conversion is referred to as completely diluted. However, others argue that this metric provides a misleading valuation when it incorporates options and limited stock, which overstates the amount of securities included in the calculation.
In the run-up to the IPO, some experts predicted Coinbase will be valued at $100 billion. Although it wasn't a million miles away, its closing valuation was still less than predicted.

Coinbase Listing is a Watershed Moment For The Cryptocurrency Industry

Coinbase is the first global cryptocurrency firm to try the stock sector in the United States. Its IPO was heralded as a watershed moment in the mainstreaming of cryptocurrencies. According to analyst Dan Ives:
"Coinbase is a foundational piece of the crypto ecosystem and is a barometer for the growing mainstream adoption of bitcoin and crypto for the coming years in our opinion."
COIN debuted on the Nasdaq Global Select Market at $381. Early on, sellers raised the stock as high as $429, but bears quickly took over, causing the price to fall as the day progressed. It closed at $327 at the end of the day.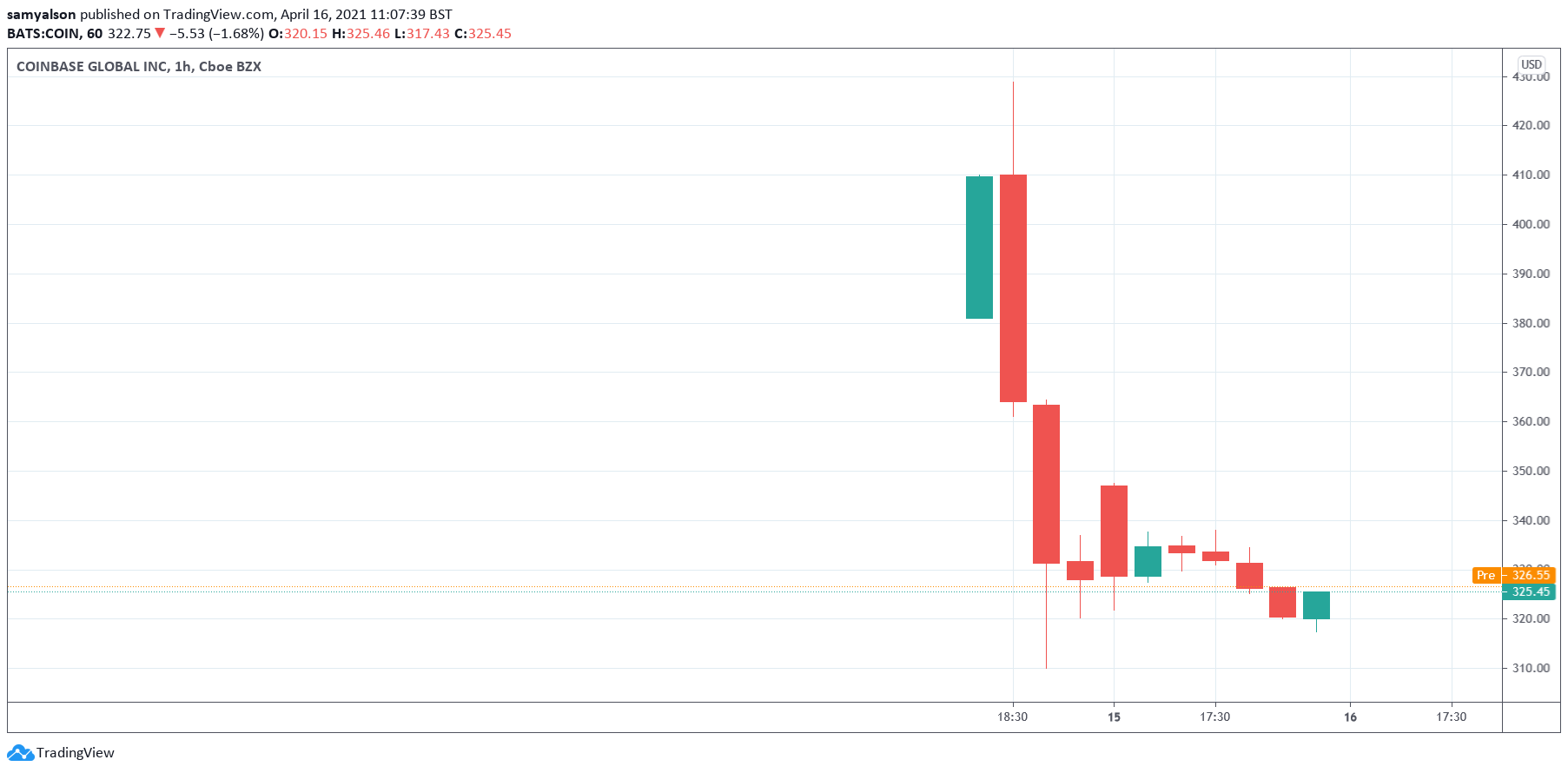 Source: COINUSD on TradingView.com
Prior to its public debut, the company had published some remarkable numbers. It recorded an increase in sales and a doubling in monthly active users from the previous quarter.
However, market analysis company New Constructs has already warned of a serious overvaluation at $100 billion. They assume that a premium this large ignores the possibility of a potential squeeze on the company's transaction margins.
"the company has little-to-no-chance of meeting the future profit expectations that are baked into its ridiculously high expected valuation of $100 billion."
The Actual Valuation Should be $65mn

Although Coinbase's completely diluted value came in at $86 billion, roughly in the centre of pre-debut predictions of $60 billion to $100 billion, CIO at Arca Jeff Dorman believes this number is vastly exaggerated.
Dorman blasted the media for spreading "misinformation" and "horrible reporting," claiming that they were using the incorrect share count. Coinbase's closing valuation should be $64.7 million based on 198 million class A and B shares.
"That math is wrong — There are 198mm class A and class B shares o/s, not 261mm. If we use fully diluted share count, then every stock on the planet has infinite shares due to no restrictions on how much stock a company can issue."
On the matter of ever reaching a $100bn valuation, researcher Larry Cermak expects this to happen as long as the bull market continues.
"Direct listings almost always trade down in the next few days because of the high float that's being dumped. As long as the bull market continues, it will eventually recover and go $100B+ IMO. Low volume today is somewhat surprising though."
At this point, it's unknown if an overinflated Coinbase market cap is a boon or a bane for cryptocurrency. While an exaggerated value is likely to pique curiosity, the flip side has Coinbase under additional pressure to live up to the hype.