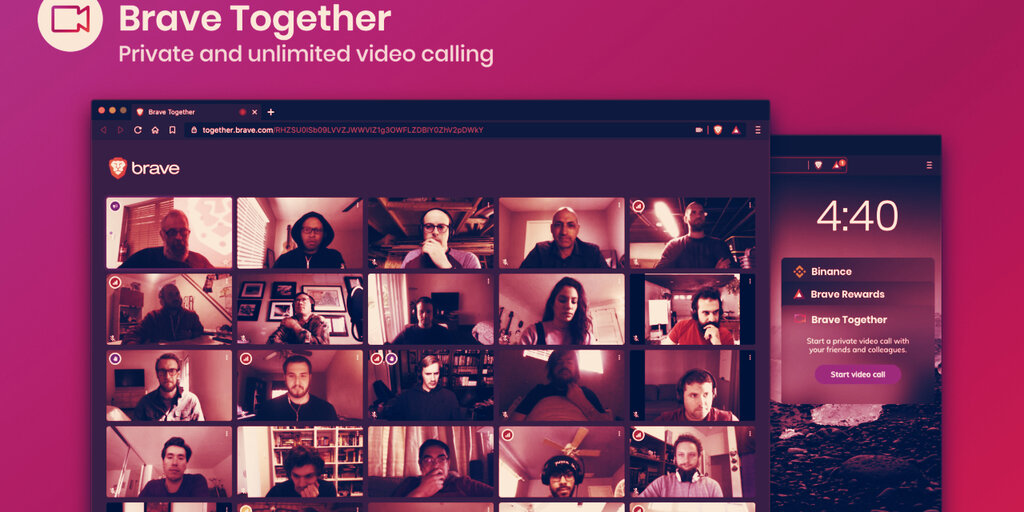 Crypto-friendly web browser Brave has announced that private and unlimited video calls can now be made on its platform.
Brave wrote on Twitter that video conferencing is now available on Brave Nightly, the testing and development version of the browser. Known as Brave Together, the platform allows end-to-end encryption for video calls—but is still in testing mode with incomplete features. (The service, for example, only enables encryption for one-on-one calls at the moment.)
Our Nightly version for North America now features Brave Together, our private and unlimited video calling service based on open source @jitsinews. Click on the widget & start connecting with friends/colleagues. Feedback welcome at https://t.co/SWLpcAKZDq for this trial version. pic.twitter.com/UPFE13Z0xB

— Brave Software (@brave) May 26, 2020
Brave Together is based on the open-source, encrypted video chat software Jitsi, the preferred video app of NSA whistleblower Edward Snowden, according to an interview he provided Wired in 2017.
An account is not necessary to use the video conferencing platform but one will need to use the Brave browser.
The coronavirus pandemic has seen an explosion of the use of video conferencing platforms as countries around the world enforce strict lockdowns and people conduct meetings remotely or call family and friends.
One such platform that has seen its popularity surge is Zoom. The application's stock has doubled since the start of the coronavirus crisis as schools, governments and startups use the platform to communicate.
But concerns have been raised about Zoom's lack of privacy. Calls are not end-to-end encrypted, and Zoom's privacy policy gives the company rights to collect personal data—even if they don't have a Zoom account.
Elon Musk's rocket company SpaceX even banned its employees from using Zoom.
Brave Browser—which has been praised by crypto luminaries from Tyler Winklesvoss to Binance CEO Changpeng Zhao—provides an alternative to typical web browsers with increased privacy and a crypto rewards program through its native BAT token. The platform has criticized Google's purported monopoly and aims to be taken seriously as a more ethical option.
Join Geezgo for free. Use Geezgo\'s end-to-end encrypted Chat with your Closenets (friends, relatives, colleague etc) in personalized ways.>>