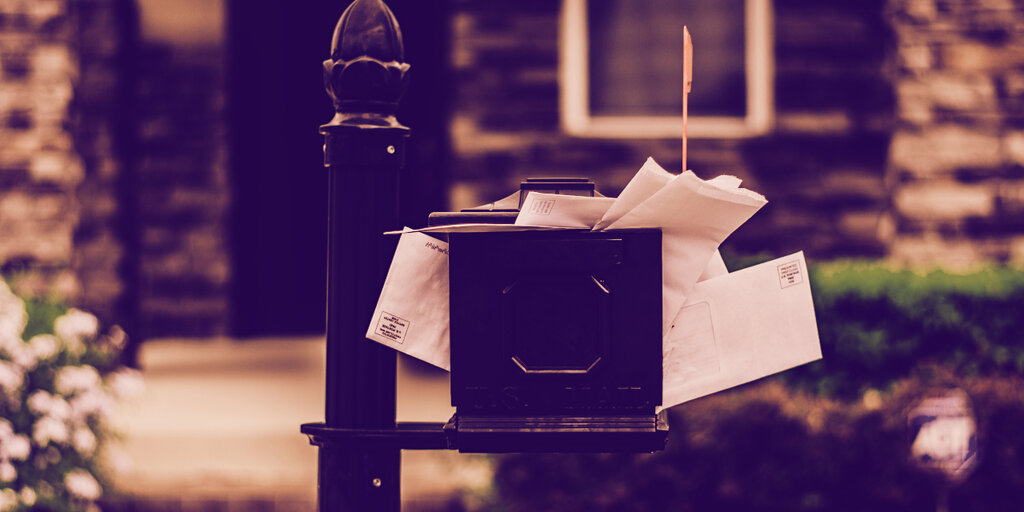 Over two months after Congress agreed to send money directly to Americans reeling from the COVID-related economic slowdown, many citizens still haven't seen a dime. Now, some are accidentally throwing their payments out because they look like junk mail, according to an NBC report.
The analog nature of the problem might just be enough to make one pine for a central bank digital currency.
On March 27, President Trump signed the CARES Act into law. It promised payments of up to $1,200 to adults and $500 for each dependent child.
But delivering those stimulus checks has been rocky from the beginning. The first wave of payments came in the form of direct deposits into bank accounts of people who had signed up for direct deposits when filing their taxes. Those began landing in bank accounts in mid-April. Not exactly blinding speed, but the Treasury had to first count all the money it had printed at the behest of the Federal Reserve.
Those who hadn't set up direct deposits were informed they would be getting checks in the mail. But that took even more time. For one, it's more time-consuming to mail checks. And for another, President Trump requested that his name go on them, which Treasury Secretary Steven Mnuchin duly agreed to.
But not every American has a bank account they can easily cash a check into, so the Treasury, in certain cases where it was unsure about banking information, chose to issue 4 million Americans with prepaid debit cards so they didn't have to cash their check at Walmart.
Have you received an EIP Visa debit card in an envelope that says Money Network? This may be your #EIPCard containing your stimulus money. Call 1.800.240.8100 to activate. Visit https://t.co/EKFB5BL5AT to learn more. pic.twitter.com/TpMlpQS09S

— Fiscal Service (@FiscalService) May 29, 2020
Unfortunately, the Treasury Department could have spent a bit more time thinking through the packaging. The debit card envelopes don't indicate they're coming from the federal government. They instead say "Money Network Cardholder Services," and the cards themselves look like the sort of promotional credit card offers you throw out, along with coupons and offers for DirectTV.
So, of course, people are accidentally throwing them out.
This latest in a string of unforced errors by the administration related to the pandemic comes at a particularly bad time for struggling Americans. Unemployment is at an all-time high, hitting 14.7% in April. Moreover, states have had trouble keeping up with demand for unemployment assistance, especially given that gig workers and freelancers, not typically eligible for unemployment, could tap into those funds thanks to the Pandemic Unemployment Assistance program—another provision of the CARES act. People need cash, and fast.
It's another argument in favor of central bank digital currencies, which would potentially allow for speedier delivery of funds.
In a webinar on Wednesday, Morgan Creek Capital Management CEO and CIO Mark Yusko said, "Imagine these stimulus checks if we could have just pushed a button and sent them out instead of waiting for frickin' Trump to sign them and send them in the mail. Stupid. So central bank digital currencies are the future."
But a central bank digital currency wouldn't necessarily obviate the need for debit cards. "CBDC is not a well-defined term," pointed out a primer on central bank digital currencies published by the Bank of International Settlements in 2018. "It is used to refer to a number of concepts." Some of these involve tokens while others are account-based. Some are designed for retail payment and others are for wholesale use. Since it's digital money, it might need to come in a form that Americans are comfortable using money in—a card.
CBDCs, then, aren't a magic bullet for government ineptitude. Their utility all depends on how they're designed. That said, if the Federal Reserve can issue a CBDC without relying on the Treasury Department for dissemination, it would at least be cutting out the intermediary responsible for sending out scammy-looking coronavirus relief in the mail.
Join Geezgo for free. Use Geezgo\'s end-to-end encrypted Chat with your Closenets (friends, relatives, colleague etc) in personalized ways.>>