43 Interactions, 2 Today
On global spot markets today, the Ethereum (ETH) price reached a new all-time peak of $2,650. What does this say for the Ethereum 2.0 deposit contract?
ETH2 deposit contract surpasses $10 billion in value locked for the first time in its history
BeaconScan, an explorer for the first stage of the Ethereum 2.0 launch, reports that 3,950,067 Ethers have been locked in the ETH2 deposit contract so far.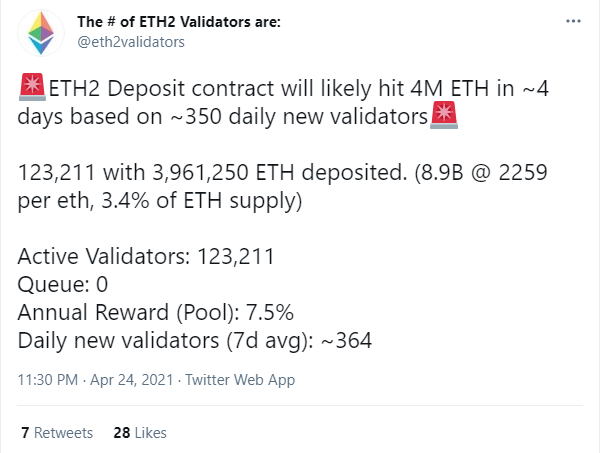 This ensures that 124,140 validators deposited their stakes (minimum 32 Ether each) to the contract, ensuring the integrity and finality of Ethereum 2.0 transactions.
In the wake of the recent rise in the price of Ether (ETH), the ETH2 deposit contract has reached the $10,000,000,000 mark for the first time.
If we treat the Ethereum 2.0 deposit contract as a publicly traded business, its market capitalisation will place it among the top 1,500 in the world.
ETH2 enthusiasm is on fire
In terms of nett market capitalisation, it would have overshadowed Japanese multinational electronics conglomerate Sharp Corporation and storied truck manufacturer MAN SE.
This achievement comes at a time when interest in Ethereum is increasing (ETH). Meltem Demirors, CSO of CoinShares, stated that various launches of Ethereum-based exchange-traded funds represent excitement for the second cryptocurrency.
Meanwhile, Ethereum (ETH) investors may now play with proof of stake (PoS) even before the ETH2 version of Ether is published. Bender Labs has launched an Ethereum-Tezos bridge for DeFi.
Subscribe to our newsletter