513 Interactions, 2 today
An
unconfirmed report
claiming that the US Treasury has charged many financial firms with cryptocurrency money laundering has caused chaos in the cryptocurrency sector.
U.S. TREASURY TO CHARGE SEVERAL FINANCIAL INSTITUTIONS FOR MONEY LAUNDERING USING CRYPTOCURRENCIES -SOURCES

— FXHedge (@Fxhedgers) April 18, 2021

According to KogoCrypto, Bitcoin has dropped to $51,000, and top altcoins suffering far greater falls.
The allegedly triggering headline was shared by a shady Twitter user named FXHedge.
Since making the rounds on social media, the tweet managed to wipe out $288 billion from the cryptocurrency sector in 54 minutes. Despite referencing unnamed sources and disabling comments, this post had over 4,700 likes at the time of publishing.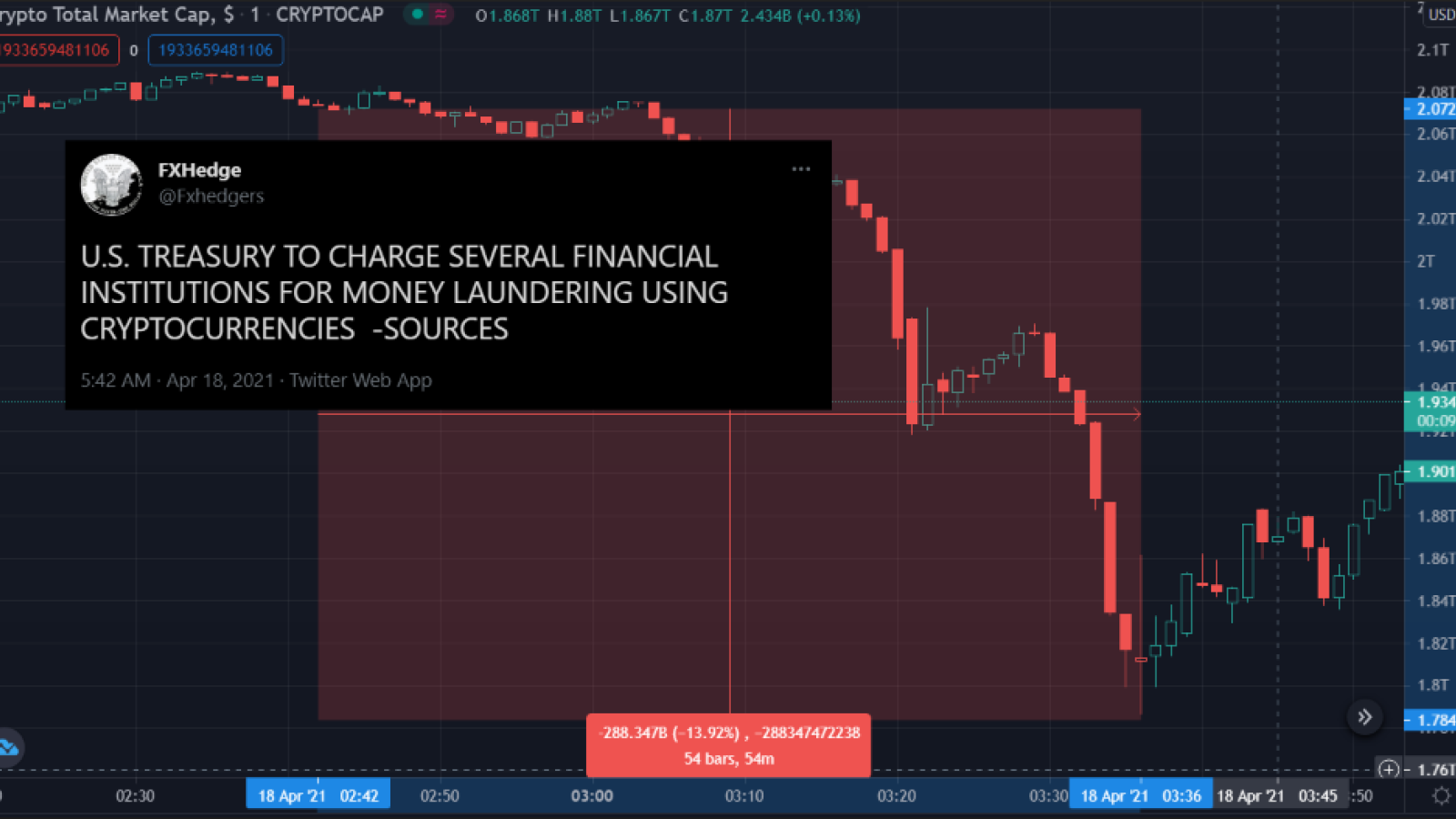 Jake Chervinsky, general counsel at Compound Finance, writes that he does not believe the tweet is credible and money laundering investigations are handled by the US Department of Justice. He also writes that charging many financial institutions at the same time would be "unusual":
I don't find this credible. The tweet itself is fishy: Treasury doesn't charge money laundering (DOJ does) & a case against several FIs at once would be unusual. Also, criminal investigations are kept strictly confidential & rarely leak. I'm not convinced by unnamed "sources."
The fragility of crypto
The fact that a shady tweet might wipe out hundreds of billions of dollars has shown the fragility of the crypto industry, which remains extremely susceptible to such speculation.
Twitter users may use their large followers to manipulate the market with disinformation. A false ZeroHedge account went viral in early March after publishing a fake tweet about Apple breaking into Bitcoin.