146 Interactions, 2 today
The sixteenth-largest cryptocurrency, which supports dapps on its network, is rapidly recovering from the crypto market downturn.
According to statistics from analytics site Nomics, Solana, the sixteenth-largest cryptocurrency by market size, is up 12 percent in the last 24 hours and 48 percent in the last week. Its current price is $41, the highest since May 19, when it fell from $56 to $35 in a single day.
While Solana is on the rise, the rest of the market is stagnant. Bitcoin, by far the largest cryptocurrency and market bellwether, is down 2% on the day at $36,000. Ethereum, the second-largest cryptocurrency, is down 0.3 percent at $2,640.
According to a letter published yesterday by crypto research firm Messari, the native coins of other smart contract platforms, such as Cosmos and Polkadot, have joined Solana's resiliency.
After examining the performance of five crypto sectors in relation to the recent market slump—smart contract platforms, decentralised finance, decentralised exchanges, currencies, and Web3—Messari discovered that smart contract platforms have proven to be the most resilient to the recent crypto market crash.
Throughout May and portions of April, the fall reduced Bitcoin's price to lows of around $32,000. Bitcoin returned to near-$40,000 highs before plunging to today's price of $36,000.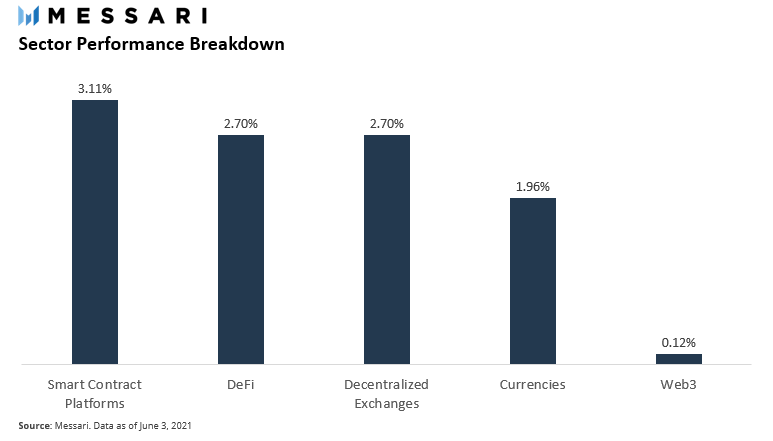 Smart contract platforms recovered by 3.11% over the past week, while Web3 coins rebounded just 0.12%. Over the past 24 hours, Cosmos jumped in price by 2.77% to $15.28, and Kusama's up 1.67% to $414. Polkadot is down 0.48% to $24.33.
Ethereum killer?
Founded in 2017, Solana is a blockchain that supports highly scalable decentralized applications (dapps). It's often touted as "Ethereum killer" because the project claims to process 50,000 transactions per second (TPS).
This is much quicker than Ethereum's average TPS of 10 to 15 TPS and Bitcoin's average TPS of 5 to 7.
However, with a market capitalisation of $11 billion, Solana behind Ethereum, the dominating smart contract network, which has a market capitalisation of $306 billion.
Solana's confidence has been boosted by a number of factors.
Several sources informed Decrypt yesterday that Solana is gathering between $300 million and $450 million to bulk up its platform, greatly above its intended—but undisclosed—level of funding for its March round, which it elected to extend due to overwhelming investor demand.
On June 2, a new NFT marketplace, Metaplex, debuted on Solana. Metaplex, billed as "Shopify for NFTs," allows innovators like as Grammy-winning artist RAC to construct their own NFT businesses. Metaplex, unlike several prominent NFT marketplaces like as OpenSea, is decentralised. It is far less expensive to use than Ethereum NFT platforms, with a stated cost of 35 cents to manufacture an NFT and $3 to auction.