170 Interactions, 2 Today
NFT whales are enthralled with particular numbers. Why?
Yesterday, CryptoPunk #8888 was sold for 888.8 ETH, and EtherRock was sold for 888 ETH. Cai Wensheng, the co-founder and chairman of Meitu, purchased CryptoPunk # 8236, one of 64 CryptoPunks advertised for 888 ETH. What is it about the number 8 that makes it so special?
One theory is that Chinese whales are lured by the magic number. In Chinese culture, the number 8, or 八, is pronounced like 發 (fa), which means "wealth" and "prosper." Other numbers are also favored by the Chinese: 1314 means "in this life forever" and 520 means "I love you."
"NFTs associated with [these] numbers could catch bids from the [Chinese whales] that want to give them to their significant others," one Chinese investor told Decrypt.
The investor, who asked not to be named, said that wealthy Chinese investors are snapping up NFTs with increasing regularity.
He shared details of an exclusive WeChat group for bonafide CryptoPunk owners and said membership of the Chinese-speaking group rose from 20 to more than 100 in the last fortnight.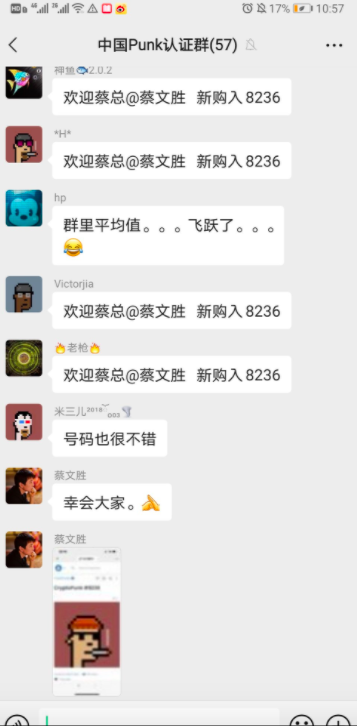 The increase in membership implies that the cachet of NFTs is growing among Chinese high society. "They've got rich and influential pals and [are] definitely just going to mention Punks between cocktails and dinner while pitching metaverse and whatever," the investor speculated.
According to him, another Chinese businessman, Bo Feng, Managing Partner of Dragonfly, has a CryptoPunk as his WeChat profile image. According to the investor, Alibaba co-founder Joe Tsai is also said to hold a CryptoPunk, but there is no good evidence for this as of yet.
However, data is limited, and little else supports the hypothesis that particular numbers entice Chinese investors to enter the market.
According to Alex Svanevik, CEO of data analytics firm Nansen, blockchain records indicate that Asia is the most active continent for crypto trading, although he hasn't examined the trading hours of the NFT sector.
According to some data, Chinese investors aren't the only ones interested in the magic number. The wallet that purchased an EtherRock for 888 ETH follows the trading hours of a European trader rather than a Chinese trader.
While the buyer of CryptoPunk #8888's trading hours are synchronised with China's, a pseudonymous investor who claims to have purchased it stated that they are not Asian and just like the number 8 "because it looks like a snowman."
In the absence of concrete data, the invisible hand of the market shall surely reveal the truth soon enough.