VeChain (VET) has increased by 50 percent since May 22, after breaking out from a long-term descending resistance line. The TRON (TRX) price movement shares similarities to that of VET, allowing for the possibility that it will initiate a similar upward move.
Cryptocurrency trader @RookieXBT outlined a chart comparing the movements of VET and TRX, which shows a similar descending reisstance line for both coins, stating that:
Popular to contrary belief, I think $TRX is about to have a run of its own. Here is a side by side comparison of $VET and $TRX Don't sleep on Tron.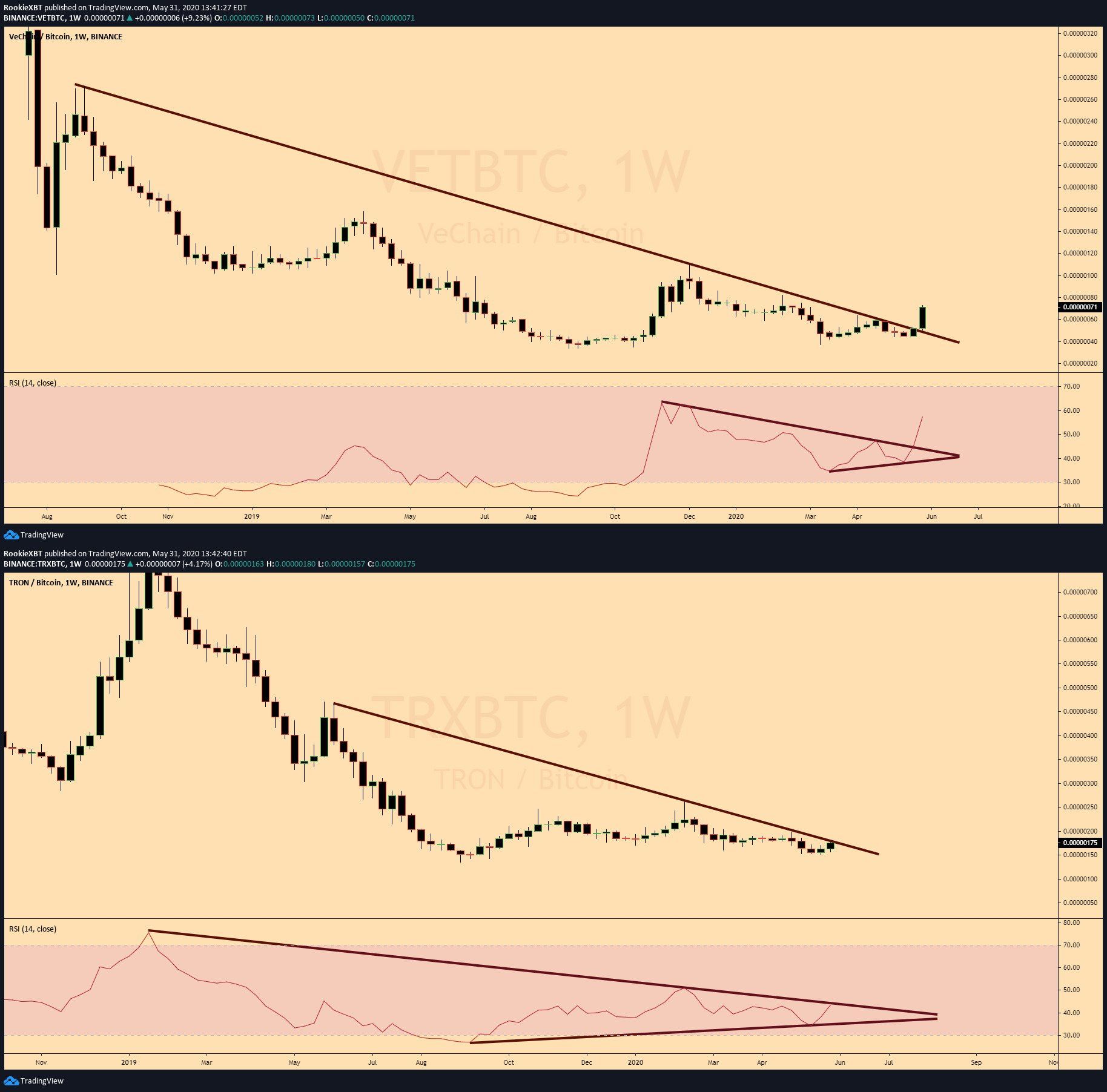 VeChain (VET)
Measuring from May 22, VET has increased by 50 percent. On May 25, the price broke out from a long-term descending resistance line, accelerating its rate of increase.
This breakout was preceded by a long-term double bottom — a bullish reversal pattern — which was combined with bullish divergence in the RSI.
At the time of writing, the VET price was trading inside resistance at 70 satoshis, with the next resistance area being found at 82 satoshis. The price has created a long upper wick, a sign of selling pressure.
Therefore, VET could decrease and find support at 60 satoshis before making another upward move.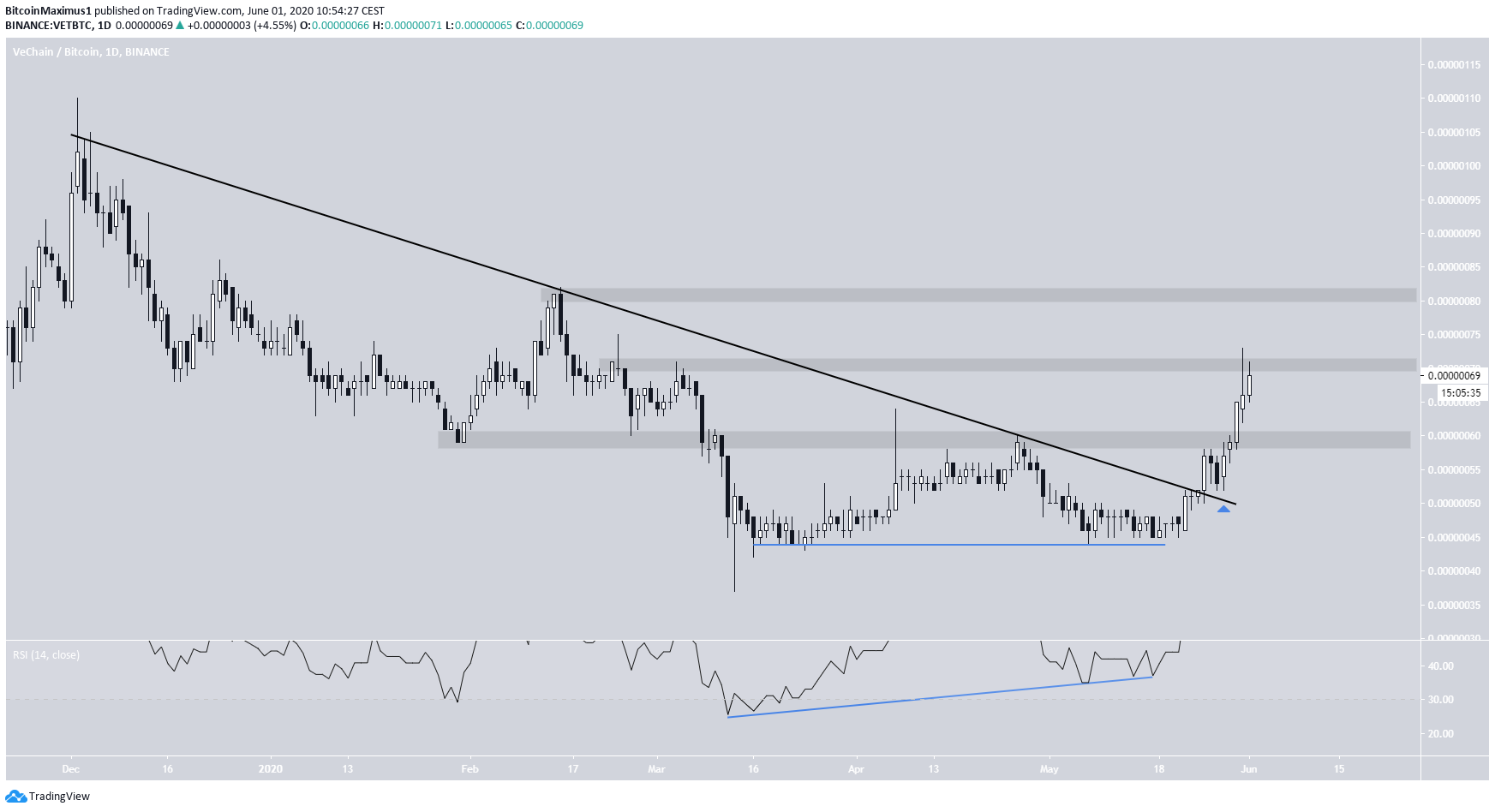 TRON (TRX)
TRON  has been following a descending resistance line since February 14 — currently touching it for the fourth time. While the price created a long upper wick above this line yesterday, it proceeded to decrease and fall back below it. In addition, the resistance line coincides with the 175 satoshi horizontal resistance level.
The TRX price has generated bullish divergence throughout the entire month of May — a sign that the price is likely to break out. If it does, the closest resistance area would be found at 200 satoshis.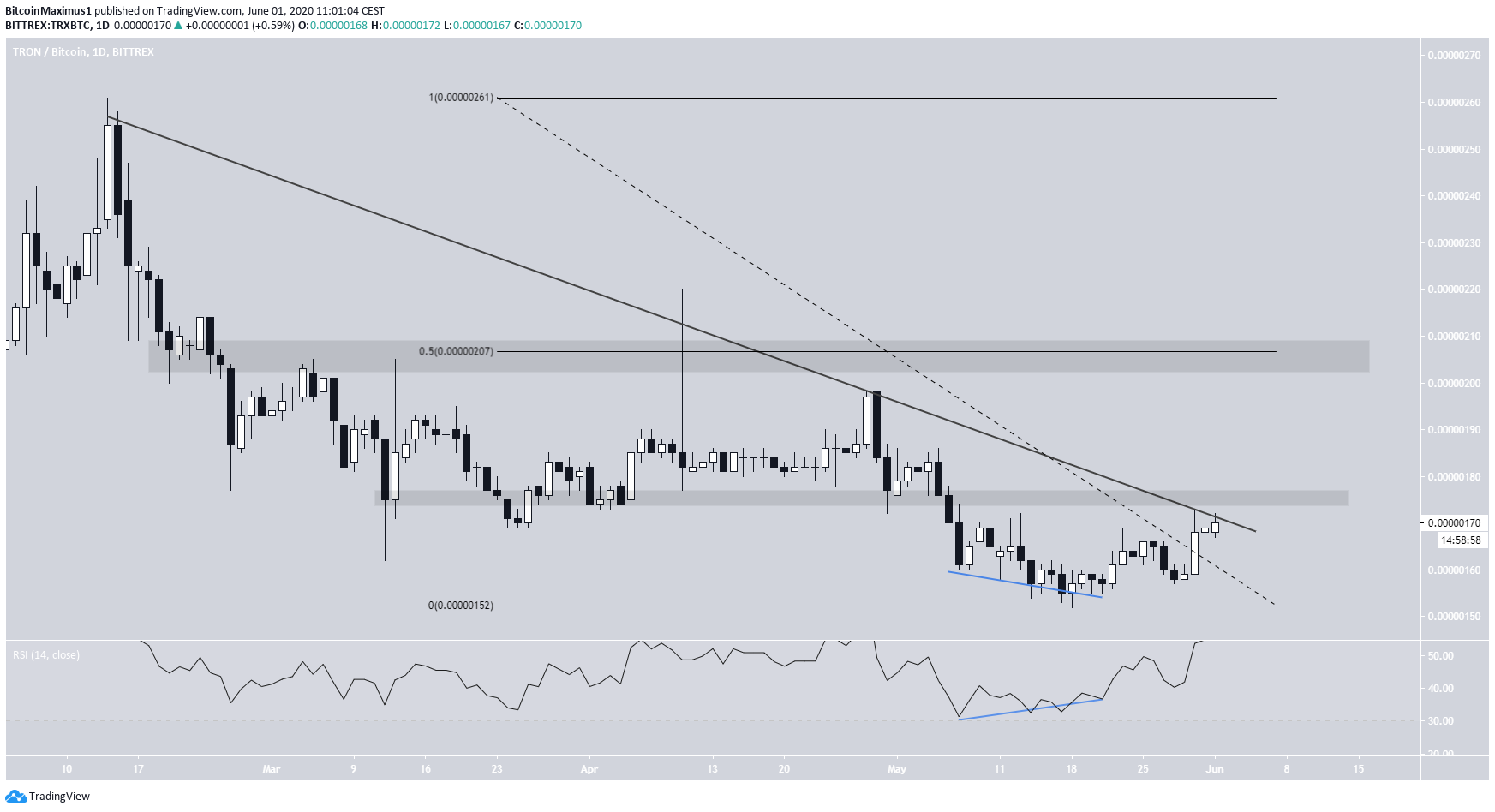 In the short-term, the price has flipped the 167 satoshi area as support, along with the 50- and 200-period moving averages (MAs), which are very close to creating a bullish cross. The price decreased well below this level and the MAs yesterday, but created a long lower wick — a sign of buying pressure.
Therefore, the price is expected to increase and breakout from the long-term resistance line in the near future.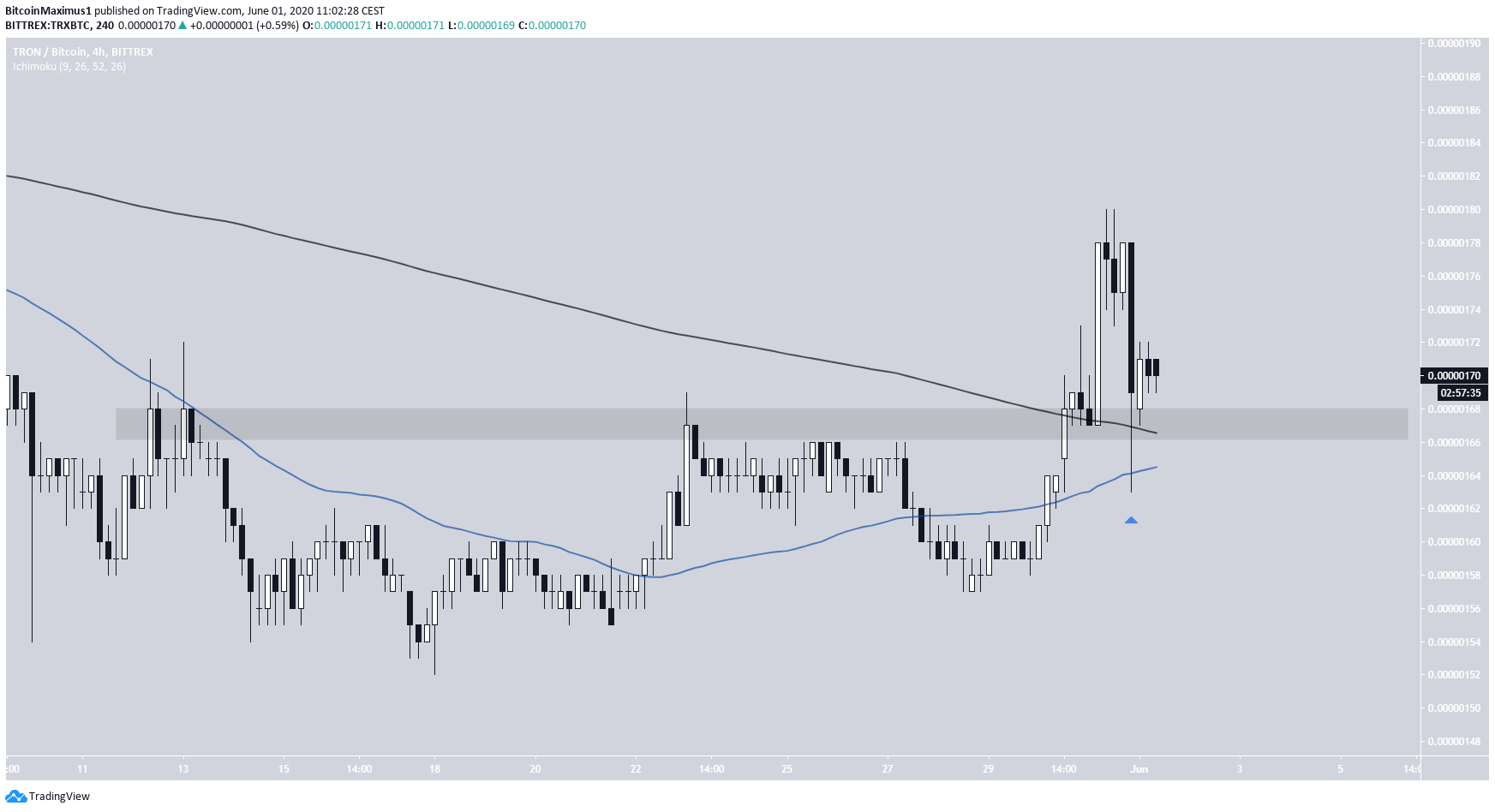 Bitcoin Dominance Rate (BTCD)
As altcoins increse at a faster rate than BTC, the Bitcoin dominance rate falls. Therefore, it is important to take a look at its price movement before attempting to enter altcoin trades.
The BTCD rate has fallen below the 66.5 percent area that had been providing support. While the rate has generated bullish divergence, indicative that it could increase in order to validate the previous support area along with the possible descending resistance line, it is expected to eventually decrease to 65 percent.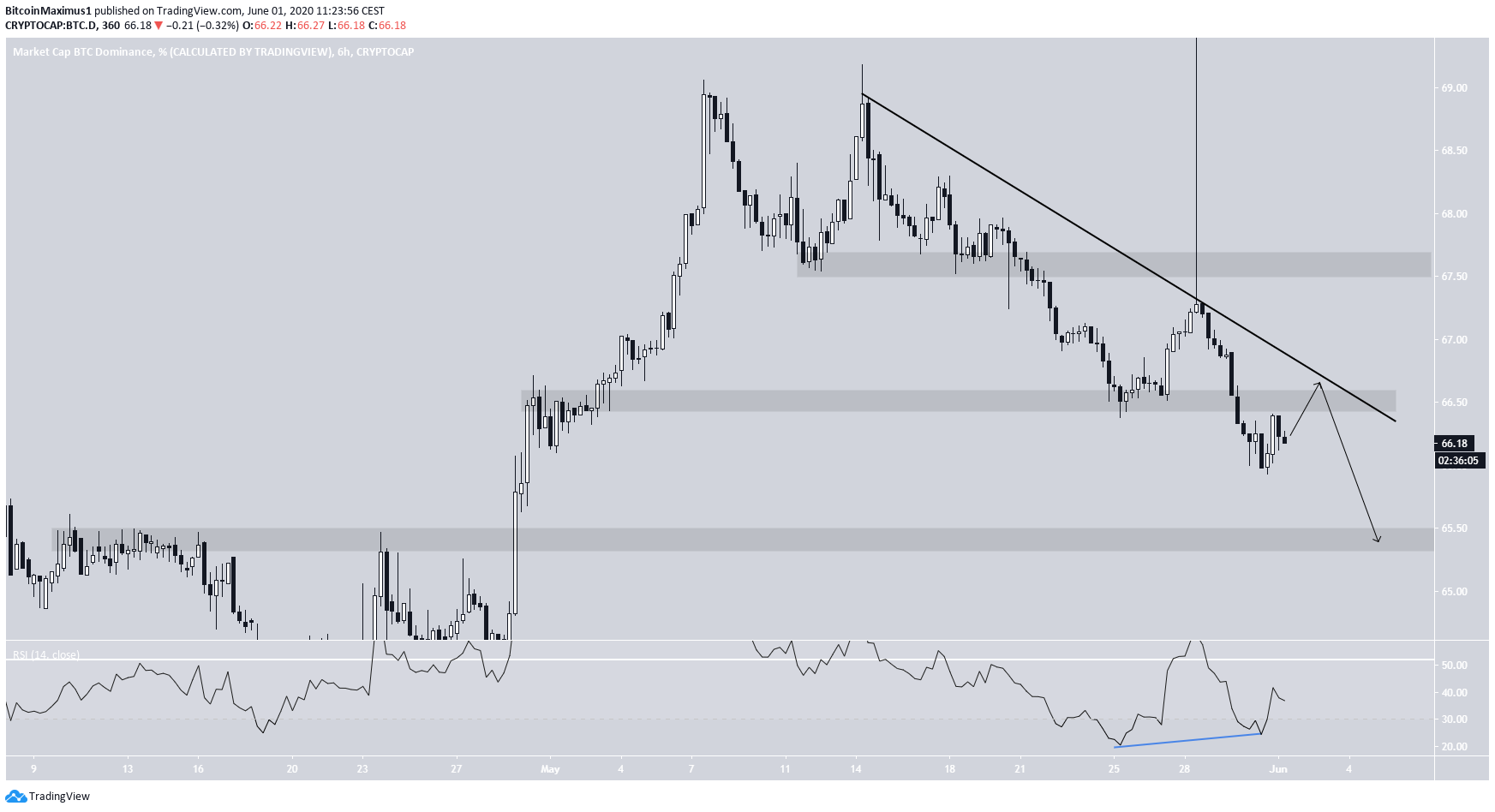 Join Geezgo for free. Use Geezgo\'s end-to-end encrypted Chat with your Closenets (friends, relatives, colleague etc) in personalized ways.>>